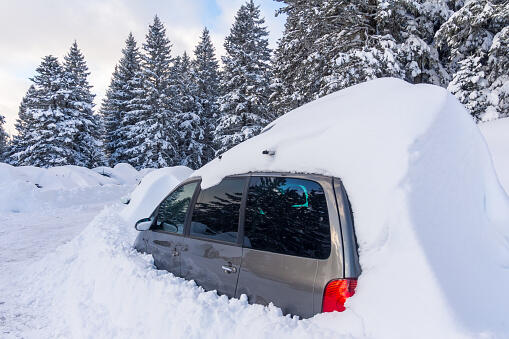 Image source: Getty Images
Well, it appears that forecasters got this one right! They predicted something huge was coming our way with snow totals between 1 to 2 feet. According to the Coloradoan, there are snow accumulations between 14 to 16 inches already in Northern Colorado, and as of this writing, the snow is still falling. The National Weather Service is predicting another 4 inches for Fort Collins today.
Here are some totals we have heard so far:
Colorado State Climatologist Russ Schumacher said via Twitter that he had a total of 14.9 inches in his backyard. (From Coloradoan)
The weather station at CSU reported 14.4.
The National Weather Service has 14.5.
Reporter Pat Ferrier reported 16 inches in west Fort Collins, near Overland Trail. (From Coloradoan)
With what we have now and what we could get today, where does this storm rank with the "big ones" of the past?
According to the website jonathanvigh.com:
The single day snowfall record for Fort Collins was November 20, 1979 - 21.1 inches
The 2nd greatest single day snowfall was April 2, 1957 - 19.7 inches
The 3rd greatest single day snowfall was March 18, 2003 - 18 inches
It's not often we talk about higher accumulations than Denver, but that seems the case for now. At last report (5am this morning), DIA has received about 7 inches thus far. With that, about 463 flights have been canceled. Pena Blvd is snow packed and no doubt a mess.
When will it stop? Here's the latest from the National Weather Service:
...WINTER STORM WARNING REMAINS IN EFFECT UNTIL 2 PM MST THIS
AFTERNOON...
* WHAT...Snow. Additional snow accumulations of 1 to 2 inches.
Winds gusting as high as 25 mph.
* WHERE...Denver and southern Weld county.
* WHEN...Snow decreasing this afternoon.
* IMPACTS...Travel will be very difficult to impossible today.
Road closures and impassable side streets and rural roads are
likely. Conditions will begin to improve this afternoon.
From National Weather Service
News source: The Coloradoan, jonathanvigh.com/, National Weather Service