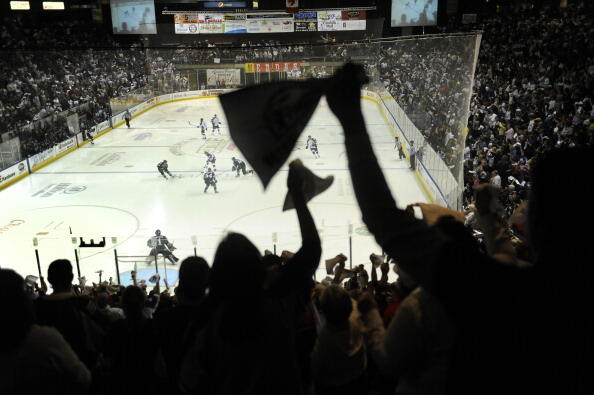 When the Colorado Eagles began the 2018-2019 season, they had a new coach, new players, entering a new league, and a new affiliation with the Colorado Avalanche. While it was a new experience for the organization and the fans, one thing remained consistent from all the previous years: winning and making the playoffs.
The Eagles made it into the Calder Cup Playoffs by one point on the final day of the regular season and they needed some help from San Diego to get it done. But, they made it and they had to face the #1 seed and Pacific Division regular season champ Bakersfield in the first round.
The first two games were at the Budweiser Events Center with the Eagles skating well against the top seed and splitting the weekend matchup one game a piece. Game three was in Bakersfield the following Tuesday night and it was a game the Eagles needed to quickly forget as they were outshot and outscored. It was a 5-2 win for the Condors which put them up 2 games to 1 with one more win to clinch the series.
Game 4 last night in Bakersfield saw the Eagles come out competitive and hungry for the win and pushing a game 5. It was scoreless after the first period with Bakersfield having a slight edge with shots on goal (12 to 9). A much better showing for Colorado who were outshot 17-1 in the first period the previous Tuesday night. Bakersfield struck first in the second period with Mitch Callahan getting one in the net at the 4:03 mark. Colorado came roaring back with two goals from Martin Kaut, one a the 8:16 mark and the second with one second left in the period (19:59). It was 2-1 Colorado after two periods.
Bakersfield came out on fire in the third period scoring two goals in the first 10 minutes, added another at the 10:54 mark, and one more before the game was over. Final score, 5-2 Bakersfield.
As the Eagles and the fans put the wraps on this season, we are again grateful for the experience and to have a consistently competitive hockey team and an organization that is committed to bringing a winning product on the ice every night. To make the playoffs every season no matter what league they're playing in and for the organization and the fans to expect a post season is truly remarkable. Remember, Tucson put their skates away almost two weeks ago having missed the playoffs by one point.
Thank you Colorado Eagles for an amazing season! We look forward to the 2019-2020 season opener in just a few short months. Meanwhile, we continue to cheer on your parent affiliate down the road....THE COLORADO AVALANCHE! GO AVS!!